covid-19 vaccine info
COVID-19 Vaccine Available
All three COVID-19 vaccines are available by appointment, if you contact the Hennepin County on-site clinic at 612.396.6157. The Moderna and Pfizer vaccines require two doses, three or four weeks apart. The Johnson & Johnson vaccine requires one dose.
Knowledge is Power
The decision to get the vaccine is a personal choice, a personal matter and not a requirement. For several weeks, our staff has provided informational resources to help people make the best decision for themselves and their loved ones.
At People Serving People, we acknowledge the historical health disparities, and the hesitation families feel about trusting the system. Everyone has the right to equitable, accessible healthcare and vaccinations are part of that. People can still choose how they want to interact with that right, but at the end of the day, we need to celebrate that those most impacted by societal health disparities have free access to one of the most important medical breakthroughs available today.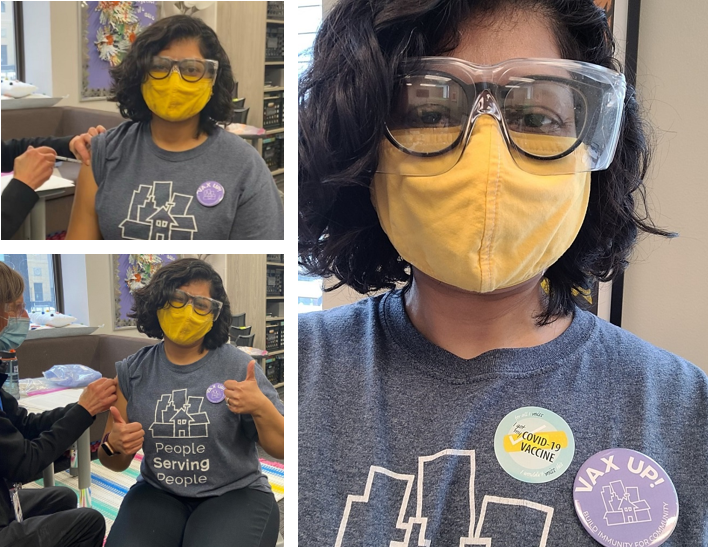 Pictured is our CEO Rinal Ray, who identifies as South Asian American, here's why she says getting vaccinated and offering it to the whole organization is important.
I'm getting vaccinated to Build Immunity for Community! It's my way of helping to care for my community and to keep people healthy and safe, so we can all further our mission to see families thrive. At People Serving People, we are experiencing this pandemic together – whether as essential workers or families experiencing housing instability – we are people at higher risk of exposure to COVID-19. It is incredibly important that People Serving People families, staff, and regular volunteers – and others like us have barrier-free access to good information and vaccination. And so Vaccination Day is a celebration!
What is the Vaccine?
Vaccines work with your immune system so your body will be ready to fight the COVID-19 virus. A vaccine helps most people not get sick and some less sick from COVID-19. The COVID-19 Vaccine uses no germ, which means that the vaccine does not contain a virus, does not create a virus, and cannot cause COVID-19 infection. It teaches your body to recognize and fight the germ that causes the disease.
In study participants, the vaccines prevented COVID-19 after two doses 95% of the time. The CDC doesn't yet know whether getting a COVID-19 vaccine will prevent you from spreading the virus that causes COVID-19 to other people, even if you don't get sick yourself.
Build Immunity for Community
Vaccines are an important way to protect families and end the spread of the virus. Increasing the number of people immune to COVID-19, will help us all return to "normal" more quickly.